The Plug and Play Rectifier is the easiest and more effective device to restore a good body symmetry. It can be activated in 5 minutes, you don't need any experience.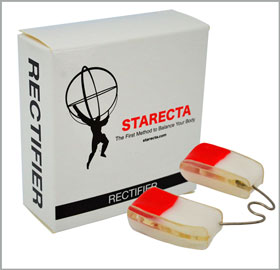 69$
The Starecta Excercises Suite is very effective to support the work provided by your Rectifier. Help your body to get straight by forcing it into symmetry.

29$
The Tailored Rectifier is the most advanced tool to restore the body symmetry. It is for people who want to have full control over their balancing process.
587$
Come to Italy to meet our team and be followed by experts to start your journey into the body symmetry world. We will activate a Tailored Rectifier for you.

1500$
The Starecta Postural Identification is the most effective analysis able to identify your asymmetries and unbalances.
95$
The Tailored Rectifier has many parts, this section is dedicated to replacements. You can buy resin or easily substitute some broken tool from here.

—